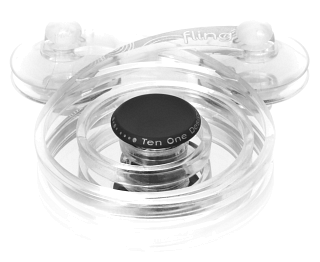 Ten One Design introduced the Fling at CES 2011. If you like to play games on the Ipad but find the virtual joystick hard to maneuver, then the Fling maybe exactly what you are looking for. It is an analog joystick that is made out of flexible resin ,machined aluminum and two suction cups.
Start your favorite game and then place Fling over the virtual joystick. The suction pads will stick insuring that Fling does not move. Then just start playing your game, Fling will give you a direct response, allowing you better control and accuracy. The Fling is transparent so you don't miss any of the action in the game. It will work even if you use a screen protector on the iPad. Great for games such as Meteor Blitz, Across Age, Super Mega Worm, along with a ton more. Once you are finished with the game, the Fling comes off your iPad easily and stores in its own micro fibre bag. The bag can also doubles as an iPad screen cleaner.
The response for the Fling has been so good that they are now selling a two pack for $29.95 and a single pack for $19.95. If you like to play games on your iPad, the Fling is a must have.
Interview by Esbjorn Larsen of MrNetcast.com

Please Support our CES 2011 Sponsors
Get your 14 day Free Trial of Audible Gold to start Listening to great Books!
Save 25% on 4GH Hosting 1yr Subscriptions Save 25% Promo Code CES2.
Sponsor: The New Luxor, Las Vegas Deals Start @ $40.00 best rates guaranteed
Podcast (specmedia): Play in new window | Download | Embed
Subscribe: Apple Podcasts | Android | Email | RSS